---
Current Japanese Society and Culture
Splintering Families and Society?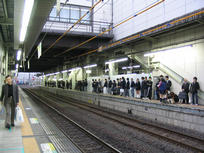 My understanding of current Japanese society is that it is becoming increasingly fractured and shallow. What I mean is that many families are splintered, more people are divorcing and willing to admit it, and relationships (home, work, social) are increasingly shallow and driven by pleasure and materialism.

While these sound negative, in some ways they are (and I was surprised when I was shown this by Mr. Toshio Okada) actually positive. Just as I don't think the 1960's cultural change in the US was all bad, and in fact grew out of flaws in American society, so it also seems these changes in Japan have resulted from a rebellion against too much rigidity and familial power. It used to be that families enforced compliance with family expectations and demands (e.g., needing family permission to marry a particular person), and we are all also familiar with the patriarchical model where men dominated and women obeyed. Some of the splintering and shifts in marriage trends and the like can be, I think, traced to a rebellion against these old, rigid, unbending traditions. And technology has certainly allowed people to get to know those with similar ideas and interests they might never otherwise have met (just as with many of us in the US) - hence broadening social contacts.

All that said, the fact still remains that families have been splintering, youth crime is on the rise, literacy is down, materialism is way up, and (as some have told me) a shocking 25% of high school girls are engaged in some kind of sexual trade activity, ranging from relatively innocent stuff to downright prostitution. Older people all over Japan express worry and concern about the young generation - and the young generation seems to mostly just want to go shopping (at least from what I have heard).

HOWEVER, I should note that I saw a TV documentary that also offered a ray of hope. The documentary followed a group of students who were working on a play about a horrific environmental tragedy from about 50 years ago - the Minamata mercury poisoning case, in which hundreds of people in a small town named Minamata developed moderate to severe neurological damage from consuming fish that contained mercury from industrial dumping. (Historic footage and photos show people and animals (such as cats that liked fish) experiencing uncontrollable body-wracking and incapacitating spasms and tremors. A severely brain-damaged young woman is held lovingly in a posed family photo, her eyes rolled back into her head, her expression slack and oblivious. Many of these people would live their whole lives severely mentally damaged, deranged, or otherwise incapacitated by the poisoning - some are still alive today.) The students who were preparing the play visited Minamata and were deeply touched as they struggled with learning about and trying to convey the human story of the Minamata tragedy. The earnestness in their efforts to teach others and also to honor the victims and their families was in itself moving - and to me a sign of hope about the status of Japan's young people.
Crime and Declining Japanese Society?
The media has made a fuss about the rising crime rates. Special emphasis seemed to be placed on crimes by young people. One recent scam involves a male voice calling on the phone and saying "ore, ore" ("It's me, it's me") and saying he's in trouble and needing cash - hence bilking worried but gullible parents of lots of money.

Another recent problem is the rise in crimes committed by foreignors. In one recent news story, an entire innocent family, including children, was murdered by an Asian (non-Japanese) gang seeking money. (However, it's known that some Japanese do aid the foreign criminal organizations, as I think was the case with this particular tragedy.)

However, all that said, I saw many, many bicycles parked here and there (or in massive numbers at train stations) - and not a single one was locked down. (Don't try this in Boston!)

Moreover, TV news, although it seemed to mention the occasional murder or other crime, simply did not contain anywhere near the same order of magnitude of violent crime reports that American TV news might.

And lastly, although the Japanese economy is said to be way down, and that many Japanese are unemployed and that jobs are moving overseas (to mainland Asia and India), most shops and storefronts appeared to be open, and the department stores were still bustling - at least, compared to my most recent stroll through a particular suburban Boston-area mall.

As much as Japan is said to be declining, in many ways it's still doing well.
Side Culture/Tech Note: The Bathrom Quandry
Go into almost any Japanese house and look in the bathroom (mind you, the door is almost always closed, because it's not considered polite to leave the door open even if the room is vacant). The toilet seat will probably be one of the hyper modern, heated jobs, probably with the control panel offering a variety of hygienic water spray options with touch controls for temperature, pressure, and positioning. Coming back to US bathrooms afterwards feels almost like a step backward in time.

Some Japanese trains, train stations and restaurants provide other modern options: recordings of water sounds to mask bathroom noises at the touch of a button(!), disinfectants for the toilet seat, and special sensors for flushing the toilet.

And yet ... go into other bathrooms - in shops, stores, restaurants, and along roads and in train stations, and you'll find the old traditional seat-less situation, in addition to not-very-clean floors. Some of the ritziest department stores still seem to have 75% old-style seatless bathrooms. Some say they are more hygienic, but the Western-style toilet seat areas seem to get eager lines of people who'd just rather not deal with the traditional alternative.

Irrelevant side note: most Japanese households use a system of heating water directly at the kitchen sink or shower and/or bath via gas water heaters. Also, a number of modern sinks (such as those at hotels) allow one to set the temperature separately from turning the water on or off - allowing one to turn on/off the water without having to reset the temperature every time. I think both of these technologies are useful for saving both energy and water. Worth thinking about?
Random Cultural Notes
People dress better in Japan than in the US, for the most part - especially the younger generations. Women tend to wear skirts more often, though less so today than previously (especially while sightseeing, it seems in retrospect).
The selection/quantity of film available in photo departments of electronics stores is staggering ... shelves and shelves and shelves and shelves. And this is AFTER the digital camera revolution has begun.
People (esp. men) boarding/getting off trains or just walking around the city somehow seem a little less polite than they do in Boston. However, in a book written by an American woman living in Japan (published in English by NHK), the author notes that Japanese men overall listen better than their American counterparts - more focus, concentration, and fewer interruptions.
The daytime TV shows I saw reminded me of tasteful, informative, stylish infomercials. Many seemed to feature a particular item (e.g., black vinegar), or a particular sightseeing objective (e.g., various hot spring hotels). The coverage was in-depth and informative, but at the end a viewer still somehow feels compelled to go out and spend some money on trying it out.
The department stores are brimming over with helpful and eager and polite staff, just waiting to help the shopper. This is in stark contrast to the nearly empty sales floor of the local Sears I went to last month. However, these sales staff in Japan are usually not paid by the department store, but by wholesalers and perhaps some manufacturers/brands. Their job is to help customers for a specific narrow section of the store.
I have never met elevator operators as elegant and polite as those in Japanese department stores. I went to a Japanese department store in New York once, and there was no comparison. The Japanese know how to speak elegantly, delicately, with utmost care and respect. On the other hand, sometimes it can get eerily robotic.
Years ago, it used to be that I was almost the only person in a Japanese train wearing sneakers. Now, many more people, including women, seem to wear sneakers, or sometimes even jeans with sneakers.
On a food note, "soba-cha" (toasted/roasted buckwheat tea) seems to be the latest rage. It supposedly contains high quantities of "ruchin" which I translate to be lutein (just a guess), as well as Vitamin C and E. One variety also contains "shisu unberu" - whatever that might be. Soba-cha (or sobacha) is a very mellow, smooth tea, coming in shades of brown to pale tea green. I even had some in (ironically) a soba noodle (traditional Japanese buckwheat noodle) restaurant. I believe sobacha is caffeine free, unless blended with traditional tea.
On another food note, Tenpuru (Tempuru? Temple?) is a bizarre but popular product that solidifies oil for disposal. That is, you add it to hot cooking oil that you want to throw away, and it hardens the oil. Soon, you have a wok-shaped mass of translucent, hard oil that you can throw out with the trash (rather than pour down the drain, or store in cans, etc.). Freaky. It claims to be natural....
---
Impressions of Japan
Tokyo
Tokyo is an intriguing mix of very modern tech mixed with tradition. The people walking around downtown Tokyo are generally dressed in suits (the men) or other fashionable and expensive outfits (the women), but every once in a while you might spot a woman in a kimono waiting for a train. Traditional houses are interspersed with new apartment complexes; small drab shopfronts are interspersed among shiny lighted storefronts. Pots upon pots of plants line the street in front of some houses and storefronts, a small reminder of the graceful and well-pruned walled gardens common in the suburbs. Speaking of streets, narrow roads open up into multi-lane Tokyo thoroughfares, where clean, shiny cars - some ultra narrow and compact, others venturing up into the Toyota Camry size range - buzz along emitting exhaust fumes that, despite being polluting, somehow still manage to smell a lot less nasty than what you might find in the American Midwest. The train stations are sparklingly modern, and still cleaner and brighter and shinier than most train stations I've seen in the US (such as Boston, New York, DC); and more, they buzz with excitement, possibly due to the polite, refined voices (some prerecorded, others not) that constantly fill the air with announcements for and about trains.

Expensive, opulent, multistory department stores offer the latest in fashionable clothing along with a dazzling array of gleaming and prettily arranged foods, ranging from sparkling fresh seafood, to Japanese rice condiments, to HUGE, picture-perfect specimens of apples, persimmons, grapes, and whatever else is in season. Other multistory shops cater to electronics buffs and camera nuts, or bookworms. Recorded messages politely, prettily, cheerfully, but REPETITIVELY remind shoppers to be careful at every escalator. Still, elsewhere in Tokyo there are the traditional, crowded open shopfront markets where savvy shoppers come to get seafood, preserves, vegetables, fruit, household items, and the like, and where vendors cry loudly and enthusiastically "welcome, welcome" - in contrast to the soft, polite versions murmured in the stuffier modern stores.

Perhaps most strikingly Japanese are the shrines interspersed here and there among the other buildings. Shinto shrines - sometimes as large as a house, sometimes as small as a dollhouse - crop up in unexpected places: between houses, or across from a gas station, or on the grounds of a Buddhist temple. The Buddhist temples range from large to gargantuan, and some reside in the heart of Tokyo. The more popular temples (e.g., the huge Asakusa temple) feature not just various buildings for visitors and monks, but also rows of small souvenir and trinket/toy shops, in addition to offering "omikuji" sellers (a sort of fortune-telling similar to drawing lots), areas for burning incense, water for ritual purification, plenty of photo ops, and so on.

And perhaps the most disturbing place I visited in Japan was the Tokyo Forum (maybe the Tokyo International Forum?) - an adjunct to the Tokyo Eki train station, I believe. Built of steel and glass, its very presence seemed to subjugate Nature and humanity into mere facets of a mechanical existence. In other words, when I entered the building, I felt like a cog in some monstrous futuristic machine. The trees planted next to the Forum seemed like mere biological components of an otherwise inorganic entity. Heck, the steel bathrooms seemed sterile both literally (a good thing) but also emotionally/socially (not so good). As someone who has commented on Japanese animation, I just had to think: Is this mechanical entity in part an outgrowth of the futuristic anime movies, or are the futuristic anime movies reacting to things like this?
Nagano
Nagano, the site of the 1998 Winter Olympics, is a bustling city nestled in an otherwise fairly rural valley. On the outskirts are interspersed clusters of houses, orchards, vineyards, fields, and great views of tree-covered mountains (sometimes shrouded in clouds). Near Nagano are various towns with a large number of hot spring hotels. Although some hot spring hotels are Western (i.e., Western-style chairs, tables, beds), it seems that many retain traditional Japanese style rooms (tatami floor, low table, roll-out futon beds) and serve intricate, multicourse Japanese meals (though a recent such meal included a tiny morsel of elegant apple pie as an opener).

The houses I saw seemed to mix Western with Japanese elegantly. Two-story, spacious(!), and clean, they feature gleaming wooden entrance halls (always with the place to take off shoes and put on in-house slippers), shiny modern kitchens, a thoroughly Western dining room with table and chairs, but also traditional tatami living rooms for lounging around on the tatami floor around a low table and perhaps sipping tea and snacking on something tasty. Traditional tatami bedrooms with futons are apparently on the decline, however, so I'm guessing the bedrooms these days might have Western-style beds.

Historic sites near Nagano include the popular and very large Zenkoji temple, an extensive manor house/museum that belonged to and documents the politically powerful Tanaka family (Tanaka Honke Museum in Suzaka), and a museum in Obuse devoted to works by Hokusai, the painter who made that famous painting of a huge ocean wave arching over a boat, and who made a series of "manga" sketches in the early 1800's.
Mito and Environs
Mito as far as I remember it resembles suburban America, though more crowded, less spacious, and almost always having the traditional stone wall around each house's yard (with meticulously pruned trees peeking over the top). As far as I remember from a previous trip to Japan, it's fairly close to a sea port, and is near a bustling fish market where very, very fresh fish and shellfish (etc.) are sold along with various dried fish and other preserved seafood.

Within a couple hours' drive from Mito is not only Tokyo, but also large swaths of relatively undeveloped land. Tiny villages are nestled amidst neatly arranged fields, and trees and towering bamboo cover hillsides and mountains. From my previous (1999) trip to Japan, I also remember seeing shrines and temples scattered here and there on hills and along the road. My favorite from that previous visit was the Unganji Buddhist temple, whose beautiful garden offered what seemed like "perfect" views from every possible angle (the bushes, trees, and plants were all arranged very precisely so that everything worked in harmony and looked intriguing and perfect no matter where one walked), and where a box at the main temple building offered photocopies of wise teachings written in traditional calligraphy for a nominal donation fee. (On this web site, the author(s) describes Unganji as having something "very special"; it is a real temple, "not a tourist attraction"; this could actually be felt as they crossed over the stream to enter the temple grounds. Yes, I would have to agree!)
Kyoto
Kyoto is another mixture of old and new ... with some of the very newest, and some of the very oldest, on a big, big scale.

On the new side, Kyoto has one of the biggest, shiniest, and ritziest train stations outside Tokyo Station's massive underground shopping mall experience. The Kyoto Eki (train station) is only about 5-6 years old, and it includes a vast array of small stores (ranging from gift shops, food shops, to convenience stores), a Disney movie theater, a "Tezuka Osamu" shop/theatre/library, one large ritzy Isetandepartment store that I THINK includes 11 or so floors (there is an area where escalator after escalator descend in more or less one long slope), multiple areas of dining ranging from McDonald's and other cheap fast places (1st floor, near the Shinkansen speed trains), to high class dining (11th floor, above the mall) - and oh yes, trains: everything ranging from the subway, to the local commuter rail(s), to Shinkansen speed rail access. Since it was November, the train station's vast glass foyer (many stories tall) also featured a gigantic lit-up Christmas tree that towered over an open dining section. Hall after hall, platform after platform, shop after shop. (Osaka city, nearby, has its own mega train station, though not QUITE on the same scale.) I have since heard that some people vehemently hate the Kyoto Eki, which, given its overwhelming commercialism and, uh, sheer glitz and size, is not surprising. Still, it was less dehumanizing than the Tokyo International Forum, even though I could possibly fairly describe it as a cathedral to commerce.

On the old side is the tourist/scholar appeal of this city: the Shinto shrines (2000+, according to a clueful Kyoto-native taxi driver),